Send Inquiry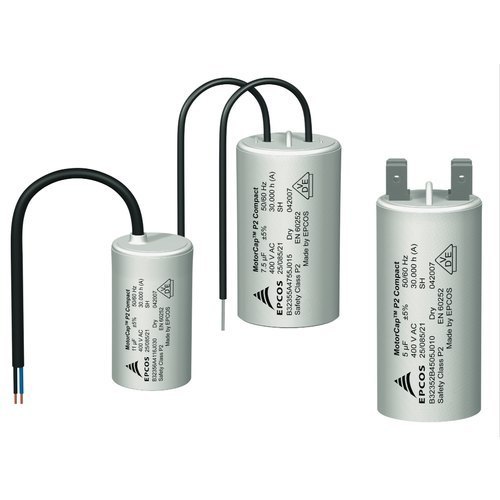 Price And Quantity
5 Piece

60 INR/Piece

60.00 - 70.00 INR/Piece
Product Description
L&T Standard Duty Capacitors Are Metalized Polypropylene (Mpp) Capacitors. These Capacitors Come With A Stacked Winding And Are Impregnated With A Non-Pcb Biodegradable Soft Resin. These Capacitors Are Self-Healing Type. The Capacitors Come With An Over Pressure Disconnector And Finger Proof Terminals. Heavy Duty Capacitors

L&T Heavy Duty Capacitors Are Metallized Polypropylene (Mpp) Capacitors. The Capacitors Come With Stacked Windings. The Box Capacitors Are Impregnated With A Non-Pcb Biodegradable Resin The Cylindrical Capacitors Are Subjected To An Extended Period Of Drying After Which The Casing Is Filled With An Inert Gas To Prevent Corrosion Of The Winding Elements And Inner Electrical Contacts. Compact Design Ensures Space Saving. Heavy Duty Capacitors Have A Long Life Of 150000 Hours.
Range Available: 1-25 Kvar (Cyl) &1-50 Kvar (Box)
Box & Cylindrical Type Construction (Resin-Filled)
Mpp Technology With Self-Healing &Over-Pressure Disconnector
Over Current Withstand Capability - 1.5 In
Inrush Current Withstand Capability - 200 In
Number Of Switching Operations Per Year - 5000
Low Operating Loss (0.45 W/Kvar)
Application In Agricultural Pump-Sets& Small-Scale IndustriesL&T Series :-
Cylindrical Series :LTCCR / LTCCU / LTCCF/ LTCCD / LTBCF / LTBCD / LTCCH / LTCCN / LTBCH / LTCCU / LTBCU / LTFR0710B2 /
Epcos Series -
B32457L4005A / B32457P5001A / B32459L4005A / B32459L5001A /B32459L8005A / B32459L8016A661 /B32459L6006A61 / B32455L4005A / B32455L5001A / B32455L8005A / B32455L6006A6 /B32343L4052A / B32344B4052A 80 / B32343L4012A / B32343L5062A620 /B32344B5162A720 / B32447A4012B /B32448A4052B /B32448A5052B/ B25667L4926A375/B25667L4826A375 / B25667L4696A375 / B25667L5726A375 / B25674L4052J /B25674L4052J / B25674L4052J / B25674L5052J / B25674L5082J325
SCHNEIDER Catlog: -
MEHVCSDY250A44, MEHVCSDY200A44,MEHVCSDY150A44, MEHVCHDY250A44, MEHVCHDY200A44, MEHVCHDY150A44.
Authorised Dealer/ Distributor & Stockist of L&T / EPCOSE / SCHNEIDER / PRABOTHAN / TDK/ PARAG
L&T MAKE CAPACITOR / EPCOSE MAKE CAPACITOR / SCHNEIDER MAKE CAPACITOR / PRABOTHAN MAKE CAPACITOR / TDK MAKE CAPACITOR / PARAG MAKE CAPACITOR
Deal In Location Pune,
Mumbai, Delhi, Bangalore, Hyderabad, Ahmedabad, Chennai, Kolkata, Surat, Pune, Jaipur, Lucknow, Kanpur, Nagpur, Indore, Thane, Bhopal, Visakhapatnam, Vadodara, Ghaziabad, Ludhiana, Nashik, Faridabad, Meerut, Rajkot, Vasai Varanasi, Aurangabad, Dhanbad, Amritsar, Navi Mumbai, Coimbatore, Jabalpur, Gwalior, Vijayawada, Jodhpur, Madurai, Raipur, Kota, Guwahati, Chandigarh, Solapur, Hubli and Dharwad, Bareilly, Moradabad, Mysore, Gurugram, Gurgaon, Jalandhar, Tiruchirappalli, Bhubaneswar, Salem, Noida, Jamshedpur, Bhilai Nagar, Warangal, Cuttack, Bhavnagar, Dehradun, Kolhapur, Jamnagar, Ujjain, Sangli Miraj Kupwad, Belgaum, Mangalore, Jalgaon, Vapi, Baroda, GIDC, MIDC, IDC, Ankleshwar, Hugli, Bharuch, Koyali, Anand, Khera, Surendranagar, Valsad, Tiruchirapalli, Madukottai, Mettur, Mysore, Bhagirath Palace, Lohar chawl, M G roard.